News
'Caruso a Cuba' – my new opera, come and see it!
Tickets for my new opera available here:
https://www.operaballet.nl/nl/opera/2018-2019/voorstelling/caruso-cuba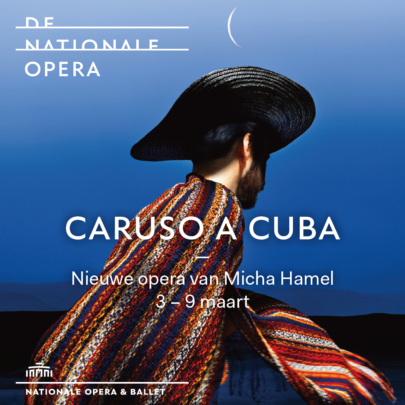 May 1920. On the evening that the world famous tenor Enrico Caruso sang Aida in Havana, a bomb exploded in the theatre. He fled out into the street and straight into the arms of the Chinese-Cuban Aida Cheng. In his stage make-up and opera costume, the singer surely raised a few eyebrows. Aida Cheng's stepfather, a powerful Afro-Cuban Lukumi priest – prophesied not only the explosion but also Aida Cheng's love affair with Caruso and his untimely death. The story is exciting and rich in metaphors and references. Caruso and Aida are, of course, linked to Radamès and Aida from Verdi's opera, but they are also incarnations of the ancient Yoruba gods Changó and Yemayá. There is a curse on the love between these two gods, who have been searching for centuries for earthly bodies to inhabit.
Opera after the novel 'Como un mensajero tuyo' by Mayra Montero (1998)